Blowing Your Mind With A Ride On O Quy Ho Pass
04-12-2017 1173 view
Many travelers love exploring neighboring areas of the famous Sa Pa Town in Lao Cai Province. If you are to be one of them, Vietnam Motorbike Tour is a wise choice because they will bring you a fantastic trip with excellent motorbikes. For me, I chose to drive along 4D National Highway, starting from Sapa to O Quy Ho Pass with a stop at Silver Waterfall.
Silver Waterfall
This waterfall is highly recommended by a friend of mine, and it didn't let me down when I came here. After traveling about 12km, I easily reach to the Silver Waterfall, which locates right on one side of 4D Highway, pouring down furiously from the top of the mountain. By looking up, I just feel like this silver flow starting from somewhere in the high sky. The whole waterfall lies like a strip of silvery white silk highlighting the green of the mountains.
Near the pool downstream, surprisingly, there are salmon farming ponds in theterraced setting. The breeds here are imported directly from Russia and raised by a local company. The fragrance comes from restaurants nearby providing various tasty dishes such as fried fishes – both steamed and hot pots are really attractive. However, I had just finished my lunch 2 hours ago, so I just stopped to take some photos for half of an hour before continuing the ride.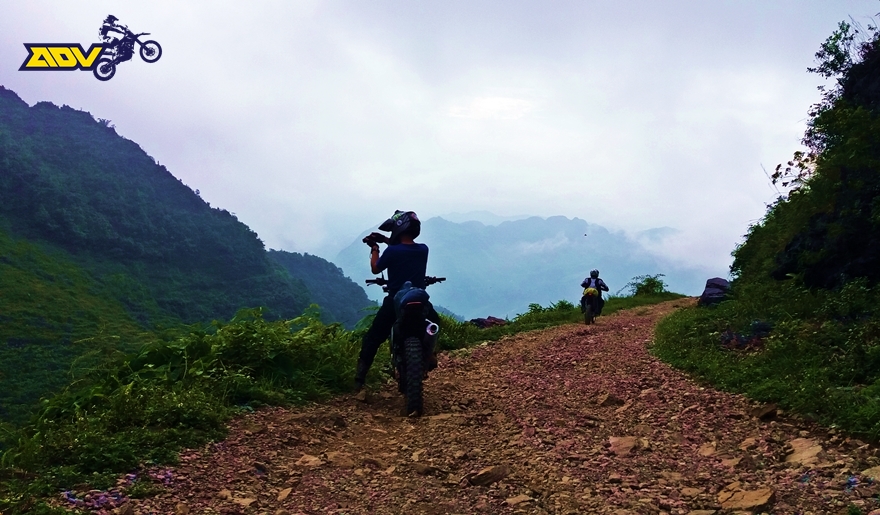 north vietnam motorbike tour
Next, The Blowing-Mind-Pass
The route I drove lying between two different provinces Lai Chau and Lao Cai, so there was an interesting climate change during the trip. In winter, it was foggy and chilly in Sa Pa, while the weather in Tam Duong, Lai Chau was quite mild. While capturing heaven-like scenery along the road sides, I tried some dishes at food stalls running by the locals. I stuffed full my stomach with awell-known specialty like grilled eggs and "Com lam" rice cooked in bamboo stems.
The first time reaching to O Quy Ho Pass, I was totally surprised by the gigantic landscape here. A 50-km-long pass runs along the Hoang Lien mountain range and is regarded as the highest road in Vietnam, sometimes being hidden in the cliffs of broadmountains and mystical forests. On that clear sunny day, wesaw tiny cars slowly climbing up the slopes in remote villages in Lai Chau. Alpine mountain ranges appear in a stunning natural landscape. There is alsothe arrogant Fansipan peak lying between clouds in the sky.
In the past, only a few people chose to drive on O Quy Ho Pass when it wasn't fixed because it not only long but also attached by stories making a chill rung down everyone's spine, including the story about a god tiger. With craggy cliffs on one side and alpine ridges on the other, O Quy Ho Pass is truly a challenge for long-distance drivers. Some parts are winding along thrilling precipices with no guard rails. Danger signs are put everywhere due to many accidents on this street, so be sure that your motorbike was checked carefully before starting the travel.
The unforgettable experiences I had during the drive on O Quy Ho Pass will forever embed in my mind. Thanks to Vietnam Motorcycle Tour, I could totally enjoy the beauty of nature as well as challenge myself with sharp bends. I will definitely come back to Lao Cai in my next trip to Vietnam.