Traditional Foods in Sapa
26-10-2017 1241 view
Sapa town is a really fantastic destination. Normally, riders join our tours to explore the new places and want to escape from the crowded life of the urban areas. Sapa is famous not only for the natural beauty of the forests and wonderful climate, but also for the unique food of the northwest forests. Come to Sapa, you should try:
"Carried under arm" pig:
The small pig's weight is less than 10kg so that people can put into the baskets, even put in the armpits. Self feeding on steep slopes and struggling with cold weather throughout the whole year have made this type of pig's meat more shriveled. There are many favorite traditional dishes processed from this pig. Its meat can be steamed, boiled, baked, stewed, and the taste is very delicious.
"Com lam":
This is a famous rice dish of the ethnic minority people in the Northwest of Vietnam cooked by sticky rice and grilled in the bamboo tubes. Sticky rice is put in a bamboo pipe and added some water. The bamboo chosen should be fresh and young. For more delicious taste, ethnic people usually use stream water and add some salt in. The bamboo pipe then will be sealed up by banana leaves and roasted above red coals or hot fire in 30 minutes. When it is done, the singed skin of the bamboo is removed, leaving a thin cover that is also peeled away when you eat. You can bring some to eat on the way of Vietnam motorbike tours.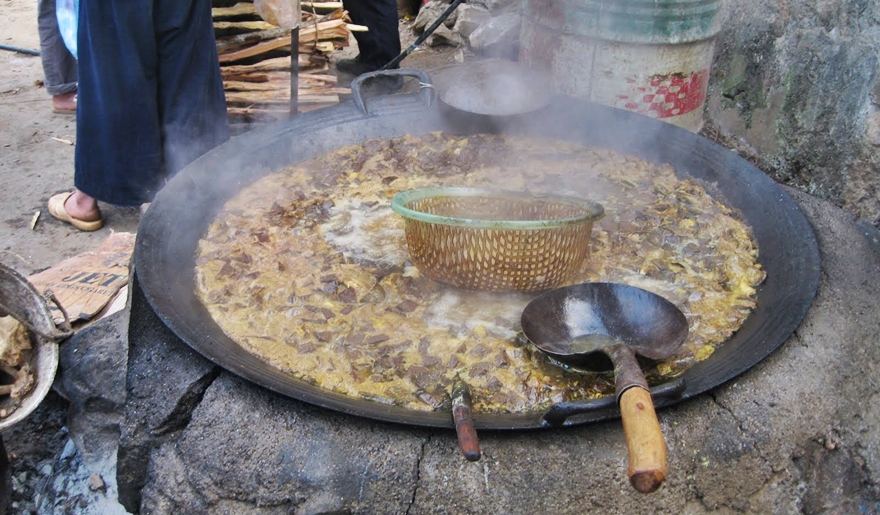 "Thang co":
"Thang co" is one of the most famous dishes of the H'Mong in the northwest of Vietnam sold in almost the villages and markets in Sapa. The dish is made from horse meat and 12 types of spices and served with many types of vegetables. The technique of making it is quite simple. Wine is always recommended for men when they eat thang co and women often eat it with com nam (rice balls) or men men (ground maize).
So after hard days traveling with us, feel free to discover Sapa and enjoy so amazing dishes.