Meo Vac Market in Ha Giang
10-11-2017 2069 view
During Motorbike tours Vietnam to Ha Giang, if you are lucky, you can visit Meo Vac market which is opened on every Sunday. The market is set in the valley which is surrounded by thousands of mountains and is also a place where you can find cultural quintessence of all mountainous ethnic minorities in Ha Giang.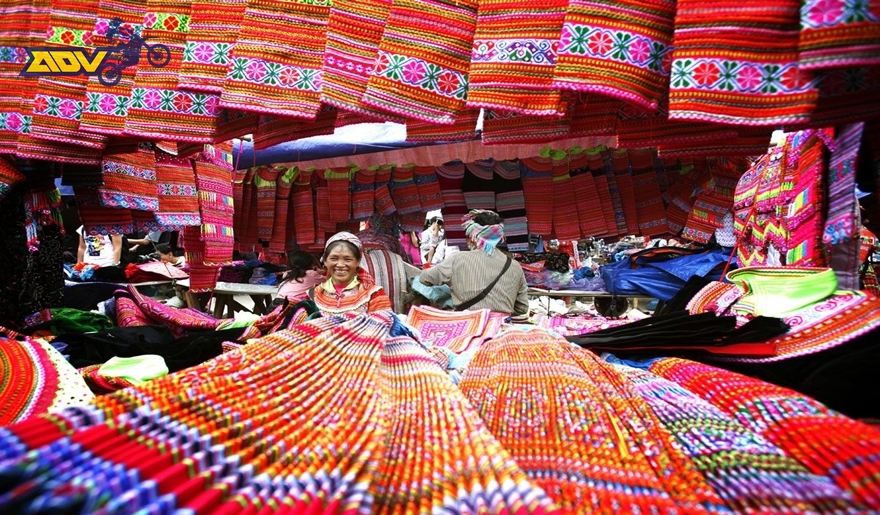 Meo-vac-market
From very early morning, when the sun has not yet risen and fog covers mountains, visitors and local people all feel enthusiastic to lead to the market.
Many Dao, Lô Lô, Giáy, Mông…men walk along with beautiful women in colorful eye-catching costumes. To go to the market, many people have to cross 10km of Ma Pi Leng pass which is consider as one of the most dangerous passes in Vietnam.
There are a lot of different kinds of goods sold in the market. Most of them are farming products, homemade items and craft items. People come here to buy warm coats for winter, plastic sandals, rock climbing shoes, or even a mobile phone…
It seems that local people come here to bring a little modern urban lifestyle back to their villages or hamlets. No matter what they trade, sellers and buyers and even visitors just coming here to visit all are very happy and you can see the smiles everywhere.
The market also has an area where people come to sell and buy corn wine made by H'mong people with manual methods. Men and even women can come here to taste the wine.
Meo-vac-market-ha-giang
Dining Pavilion is the coziest place in the market. Here you can find many popular dishes of the lowland such as pho, noodles, vermicelli with beef or chicken…"Thang co" is a typical and indispensable dish in any highland markets. H'mong men and women can sit together to eat "Thang co", drink corn wine, smoke cigarettes and chatting.
It is a really happy time after a week of hard work that helps many local people to forget difficulty and poverty which still remains somewhere in this poor rocky highlands.
Say goodbye to Meo Vac, we continue our Vietnam Motorcycle Tour to discover the next destination of the itinerary. We hope that tourism development will not make the land loose the traditional beauty, the cultural identity of people, and the characteristics of mountainous fair.