Thang Co Dish in Ha Giang
26-10-2017 1431 view
Thang Co Dish in Ha Giang, Vietnam
'Thang Co' is a typical dish of the H'mong people in northern Vietnam. Riders can find this special dish in many places during our motorbike tours Vietnam. In lowland areas, people are proud of Pho or Bun Cha but in high-land area, local's pride is Thang Co or Men Men dish.
On the trip to Sapa or Ha Giang, you will be impressed by the big Thang Co pan and bean soup bowls at colorful market days such as Sapa, Bac Ha, Dong Van…The words "Thang Co" in the H'Mong language translates as "big pot of water". The horses were eaten after getting sick or old to work. In fact, Thang Co is not an easy dish to swallow for most tourists but there is no other taste like it. The dish is made of horsemeat and its entrails.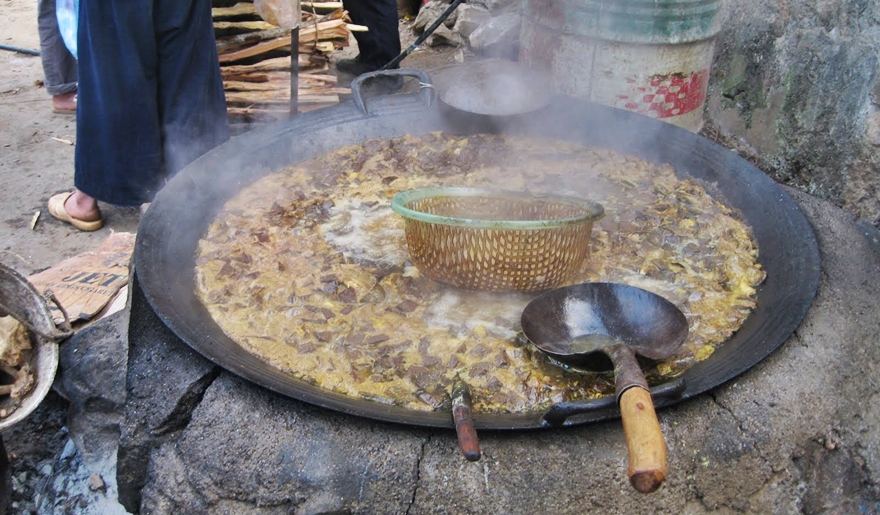 The technique of making it is quite simple. All organs, bones of cattle, horses…are cut into small pieces mixed with special spices that are popular with the Mong people, bring all of saute pans and then pour water over the fire to cook for hours, when they are ripe, then adjusted for smaller fire. The taste extremely pungent in the beginning but is neutralized with various spices.
Most of H'mong men enjoy Thang Co with liquor distilled from fermented corn white H'mong women have it with Men Men disk. Nowadays, to make the dish become easier to eat, Thang Co is cooked with other kinds of meat such as buffalo, goat or even pig. It is much more delicious if you eat Thang Co with fresh vegetables such as lemongrass, chayote, cabbage, chili leaf.
Joining Vietnam motorbike tour with us to Sapa, you will see that Thang Co dish is rarely in menu of popular restaurants, or it is in menu but it is not delicious. Best you should go to local people's house to enjoy this specialty.
Source: ADV Vietnam Motorbike Tours & Dirtbike Travel